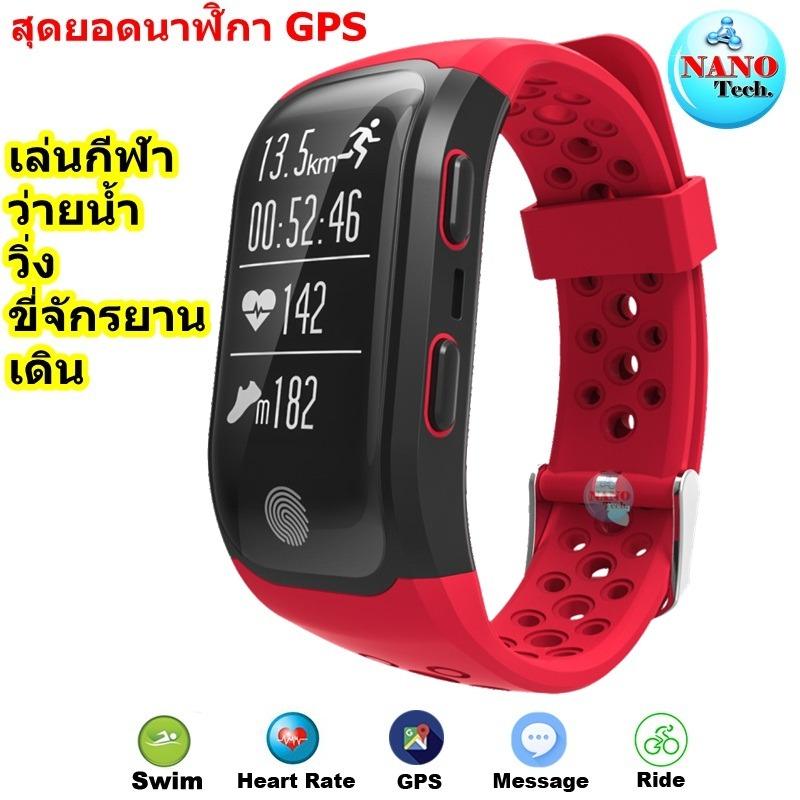 สุดยอดนาฬิกา GPS จัดมาครบ การเล่นกีฬา ว่ายน้ำ, วิ่ง, ขี่จักรยาน, เดิน, ปีนเขา S908 – สีแดง สายรัดข้อมือเพื่อสุขภาพ
อิเล็กทรอนิกส์ สุดยอดนาฬิกา GPS จัดมาครบ การเล่นกีฬา ว่ายน้ำ, วิ่ง, ขี่จักรยาน, เดิน, ปีนเขา S908 – สีแดง
ราคาก่อนใช้ส่วนลด

2290

บาท
Nanotech
● Pedometer ,Passometer,Titness Tracker,Sleep Tracker
● Sedentary reminder ,Message reminder,Call reminder,
● Heart rate monitor,,Altitude meter,Speed measurement
● Sleeping monitor,Push message,Social media notifications
● Alarm clock,Activity tracker,Calender,Week

● Perfect Personal Health Tracker: heart rate monitor, pedometer and sleeping monitors. 
● Ultra-long Battery Life: it consumes less power and can generally standby for 20 days. 
● Waterproof Design: IP68 waterproof standard, suitable to use at home, office and during outdoor activities.

 

Bluetooth Version: Bluetooth 4.2  
RAM: 64K  
ROM: 512K  
Waterproof: Yes  
IP rating: IP68

Bluetooth calling: Caller's name display,Phone call reminder  
Messaging: Message reminder  
Health tracker: Heart rate monitor,Pedometer,Sleep monitor  
Notification: Yes  
Groups of alarm: 1

Screen: OLED  
Operating mode: Touch Key

Type of battery: Lithium-ion polymer battery  
Battery Capacity: 230mAh  
Charging Time: About 2hours  
Standby time: 20 days

People: Female table,Male table

Shape of the dial: Rectangle  
Case material: ABS,PC  
Band material: TPU

Compatible OS: Android,IOS  
Compatability: Android 4.3 or above and iOS 8.0 or above

Dial size: 4.8 x 2.5 x 1.3 cm  
Band size: 24 x 1.8 cm  
Product size (L x W x H): 24.00 x 2.50 x 1.30 cm / 9.45 x 0.98 x 0.51 inches  
Package size (L x W x H): 16.70 x 11.00 x 3.00 cm / 6.57 x 4.33 x 1.18 inches  
Package weight: 0.176 kg

1 x  K-BERHO S908 GPS Smartband
1 x Charging Cable

1 x English Manual

Amphibious all around
S908 GPS BAND
Multiple GPS chip
Recording trajectoring
IP68 professional waterproof
NOTE:support within 2 meters of water depth,do not support the brewing hot water,
hot bath and water vaper,beyond the use of standards,will not be within the scope of warranty.

 

GPS BAND for sports      Configure the GPS chip,unferrered movement
GPS chip record the motion track      Support multiple modes of movement
Accurate dynamic heart rate/heart rate alarm
IP68 professional waterproof          Automatic lap
HARDWARE FROM+FUNCTION

Bluetooth,Touch key,GPS antenna,Waterproof key,Professional Waterproof IP68
Gravity sensor,TPU Watchband,Dynamic heart rate
NOTE:support within 2 meters of water depth,do not support the brewing hot water,hot bath and water vappor,beyond the use of standards,will not be within the scope of warranty.

GPS recording trajectory
Display latitude and longitude coordinates
Started:APR 8,2013 5:55:11 PM      Record duration:03:14:23     Track length:8.69km

Multiple Movement+Patterns:Swimming,Riding,Climbing,Running,Walking

SWIMMING MOTION DATA
Swing arm count Real time heart rateHeart rate analysisCalorieLapsExercise time
NOTE:support within 2 meters of water depth,do not support the brewing hot water,hot bath and water vappor,
beyond the use of standards,will not be within the scope of warranty.                  

RIDING  MOTION DATA      Connect GPS
TrajectoryMoving speedPaceMileageReal time heart rateHeart rate analysisCalorieLapsExercise time

 

CLIMBING    connect GPS       MOTION DATA
TrajectoryAltitudeRising speedReal time heart rateHeart rate analysis
FrequencyStepsMileageCalorieLapsExerise time.

RUNNING connect GPS       MOTION DATA
TrajectoryMoving speedPaceReal time heart rateHeart rate analysisFrequency

StepsMileageCalorieLapsExercise time

Data  Collection  + Analysis       OPTICAL HEART RATE(DYNAMIC)     

Record the heart rate curve for the last 16 hours

HEART RATE ANALYSIS
Heart rate analysis,real time understandins of what the state of motion,the proportion of what the state of motion,

the proportion of reference to the maximum exercise teart rate     
60% exercise warm up
70% fat burning
80% heart and lung strengthen
90% muscle strengthen
100% anaerobic warning

HEART RATE ALERT(USED IN SPORT MODE)
Sets the maximum and minimum values manually,vibration indication beyond the set value
SUMMARY COLLECTION OF MOTION DATA
Data chart for the last 7 days

Smart   Message  + Push
MESSAGE
Band to easily check the latest 3 new messages

CALLING
Intimate reminder,do not miss any important call
ULTRA LOW POWER
POWERFUL ENDURANCE

ABOUT 6 HOURS GPS continuous operation
ABOUT 5 DAYS Combined use time
NOTE: data from laboratory tests results,specific life and settings and secenarios vary

APP data management capabilities,to view historical data is very intuitive,
but also related to the table ring settings.

size:48/24/13 mm         weight: 34g      material:ABS+PC+TPU
display:128/64 pixels    satellite system:GPS
waterproof:IP68             battery:230 mah
support system:IOS8+,Android 4.3+
ข้อมูลสินค้า สุดยอดนาฬิกา GPS จัดมาครบ การเล่นกีฬา ว่ายน้ำ, วิ่ง, ขี่จักรยาน, เดิน, ปีนเขา S908 – สีแดง
● Gps สุดยอดนาฬิกา
● การเล่นกีฬา ว่ายน้ำ, วิ่ง, ขี่จักรยาน, เดิน, ปีนเขา
● Heart rate monitor,,Altitude meter,Speed measurement
● Sleeping monitor,Push message,Social media notifications
● Alarm clock,Activity tracker,Calender,Week● Perfect Personal Health Tracker: heart rate monitor, pedometer and sleeping monitors.
● Ultra-long Battery Life: it consumes less power and can generally standby for 20 days.
● Waterproof Design: IP68 waterproof standard, suitable to use at home, office and during outdoor activities.
##Tag##
# ของแท้สายรัดข้อมือเพื่อสุขภาพสุดยอดนาฬิกา GPS จัดมาครบ การเล่นกีฬา ว่ายน้ำ, วิ่ง, ขี่จักรยาน, เดิน, ปีนเขา S908 – สีแดง,
# ส่งเร็ว สุดยอดนาฬิกา GPS จัดมาครบ การเล่นกีฬา ว่ายน้ำ, วิ่ง, ขี่จักรยาน, เดิน, ปีนเขา S908 – สีแดง
,# ลดแหลกอุปกรณ์ไอทีสวมใส่,
# ลดแหลก สุดยอดนาฬิกา GPS จัดมาครบ การเล่นกีฬา ว่ายน้ำ, วิ่ง, ขี่จักรยาน, เดิน, ปีนเขา S908 – สีแดง
,# ส่งเร็ว อุปกรณ์ไอทีสวมใส่ สุดยอดนาฬิกา GPS จัดมาครบ การเล่นกีฬา ว่ายน้ำ, วิ่ง, ขี่จักรยาน, เดิน, ปีนเขา S908 – สีแดง